A cat sanctuary is a place that cats will live out the rest of their lives.
We've taken care of over 200 community cats, since 2003. Currently we have around 85 cats. The cats have approximately 2 acres here, in Haiku, Maui Hawaii.
and through another TNR colony in Kahului Maui.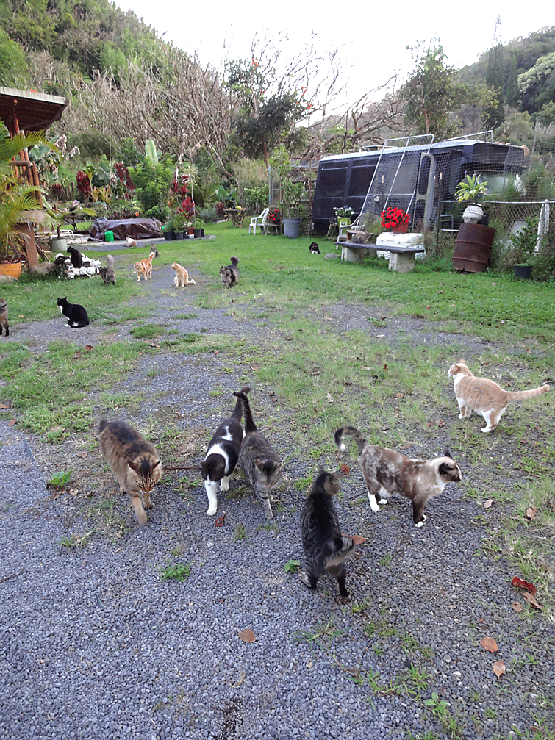 All of the cats here are community cats.
Many are transfers from other colonies, moved because they were in dangerous situations. Several we actually found and rescued, next to the road, hit by a car, left for dead. Six were living inside a warehouse and had to be moved... Five someone found in a dumpster... Four we rescued after being abandoned in an industrial work yard... etc...
Most likely, all of the cats here would have been ones that would have been killed had they been taken to the local "shelter"; abandoned, injured, born outside, scared, shy... Yet, given time, almost all of them now, are friendly and even considered adoptable.
We are a No Kill sanctuary, to the extent that, all animals we take in, will have access to everything necessary to live a long, healthy, happy life.
We are not a No Kill shelter, because we are not able to be "open door", taking in every cat needing a home, whether adoptable or not.
Unfortunately, we DO NOT have space or the funds to take in any more cats at this time!
Although, with the proper funding, and assistance, we would love to open our doors to a lot more cats that otherwise would be killed.
If you or someone you know can help us expand the sanctuary please contact us.
Please donate if you can.
Everything helps...
The costs of maintaining a cat sanctuary are very high. Besides food and rent, there are fences to maintain, cages, feeding areas, flea medications, and prescriptions and vet visits....Plus other costs.
We fully rely on volunteers.
If you will be on Maui and are able to spare some time, for the cats, please contact us.
info@saveananimal.org
If you are interested in creating a sanctuary, feel free to contact us too.
We have several years, and hundreds of cats worth of experience, and would love to share what we have learned.
---
PLEASE, help Save An Animal.
info@saveananimal.org